I am
so
glad to hear that some of you ladies also can't bench-press a bag of marshmallows. I'd high-five you all, but I'm in pain, so that'll have to wait. My arms are
killing
me! I could barely get dressed this morning and my gunning through another gym session after work today certainly didn't improve matters much. Sigh.
I usually take my outfit photos before heading off to work, but I ran a tad behind schedule this morning* so that didn't happen. Boo!
This may sound completely silly, but I've got a possible date night in a few weeks and I'm already planning what to wear!
But before we dive into that, a little background setting is in order: You see, I'm suffering from a condition commonly known as "perpetually single." The last relationship I was in ended over 4 years ago, and since then I've had a string of terrible dating experiences. As in every dude was a total weirdo. Or creeper. Or both.
-shudders-
But, I recently met someone quite wonderful, and we made plans to catch a play together next month. Though I haven't spoken to him in a while, I hope he still remembers. But even if that falls through, I have a great buddy who promised to accompany me to the show in his place, so either way, I need a fabulous date night outfit!
At the moment, I'm thinking of wearing a little black dress topped with my classic khaki trench from Banana Republic. So here are some contenders for the category of "Theater Date Night Little Black Dress" thus far: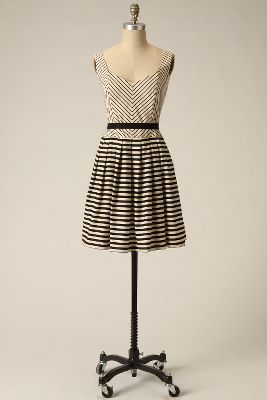 A.
Monochromatic Corset Dress
from Anthropologie
B.
Evening in Paris Dress
from Lulus
C.
Escapade Dress
from Modcloth
Okay, so Dress A isn't technically a little black dress, but I still love it. The lace-up detail in the back is WOW. And I adore the neckline detail on Dress B. Dress C has a cute retro-ish vibe (must be the peplum) that I dig. It might even look rad paired with bright or patterned tights! The choices!


*see above mention of "arms are killing me" and "I could barely get dressed this morning"