Are you all tired of seeing my OOTDs and funny poses yet? I hope not, but I still want to offer at least a little something more for my darling readers on kelinda.KELINDA. One question that I've gotten several times is "How do you shop?" Sometimes this question is posed snarkily, like in my aunt's "what
are
you wearing?" tone, but other times it's asked non-rhetorically as a means of trying to see the method behind my shopping habits.
Well, the big secret is that most of the time I'll see a particular something, a "trend" or "common element" if you will, and then feverishly seek out items that feature this trend. Thus, I give you all "Trendwatch Thursday," a feature I hope I'll actually get around to posting every week concerning a bevy of new things that catch my eye. For the first installment, I'll be obsessing over accordion pleats.
Accordion pleats, or knife pleats, are different from regular pleats in that they're usually smaller and sharper. When there's a lot of them, they can look like an accordion, hence, "accordion pleats." There are a slew of accordion pleat offerings out there this season:
Pins and Needles' '
Accordion Pleat Skirt
,' $58
Yeah, I don't know what's up with the giant bra thing either, but I really love this one. I've been looking for a good accordion skirt ever since I saw J.Crew's pleated lawn skirt from last year, but J.Crew's looked too matronly on me. This one will probably work out better because it's shorter and the fun little black waistband keeps it from looking too school marm-ish.
'
Pleated Skirt
,' Forever 21, $17.80
I like the kicky color on this one, and the high-ish wait would make it a great number to belt! But I'm most worried about the length, seeing as how F21 has a penchant of making their skirts and dresses scandalously short. This one doesn't even seem to be anywhere near the model's knee!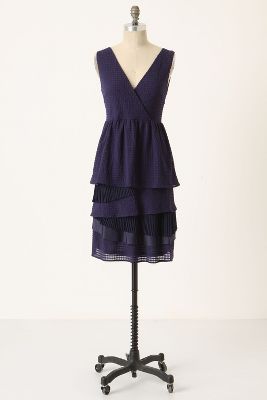 Ric Rac's '
Tonal Gingham Dress
,' Anthropologie, $138
Oooo, ahhhhh... The accordion pleats are more underplayed in this dress. They peep out from underneath the other layers to add really lovely texture to this frock. I love the eggplant color too! If I ever see this in stores, I'm definitely dragging it to the dressing room. I can imagine this being worn with fabulous nude pumps or strappy Grecian-style sandals and paired with either mint green or fuschia pink. The possibilities!
Jason Wu's '
Coupe Halter Dress
,' Neiman Marcus, $1,015
Okay, so I'm not dropping $1,000 on a dress any time soon. Or ever. But this little number is so much fun! The twisted halter neckline makes this dress look like a modern take on Marilyn Monroe's famous white dress. I like!
How about you all? Have you noticed the rise of the accordion pleat?