Yay, it's Friday! Yippee! Is it wrong that I'm super excited about the fact that I don't have work on Monday? Not so much because I dislike my job (I don't, it's a great gig!), but because I get to sleep in for an extra day. Oh, sweet sleep, how I miss your restorative company. Plus, Monday off means one less day for me to transform into a road-ragin' maniac.
Speaking of which, I'd like to relay a quick message - [RANT] Dear Dude Who Does Not Signal But Gets Mad When I Fail to Let You In: See that little lever thingy by your left hand? It's called a turn signal. When you hit it, a blinking light outside your car informs other drivers of your desire to change lanes. If there was a big meeting where every driver in the world decided to rely on psychic ability alone to predict when someone wanted to change lanes, then I am sorry. I must have missed that memo. Jerk. [/RANT]
top:
J.Crew blue button-up
bottom:
J.Crew double-serge pencil skirt
etc:
J.Crew Augusta slingbacks
Urban Outfitters skinny belt
Handmade bracelets
Anthropologie Subtle Sprouts headband
ignore my disgusting veiny feet and focus on the bows. the booows!


You can see the headband a bit better here. It's a black band adorned with teeny little knitted purple flowers with yellow centers. It's adorable, but my head gets sore after awhile from band's pinching. Ow!
I stopped by Anthropologie after work to do some returns, and
of course
I had to try on some other stuff while I was there.
First up, the
Beach Grass dress
:
In real life:
Verdict: Pass. I'm anywhere from a 2 - 6 in dresses, and I tried on a 4 this time because it was the smallest size the store had. It's a gorgeous black and cream print dress, and the fabric is super soft and comfortable, but my size 4 was way too big. As I was snapping this photograph, I could feel the dress slowly trying to make a break for it. My lack of boobage might be partly to blame, though. (
curse you, genetics!
)
Next, the
Hint of Sheer top
: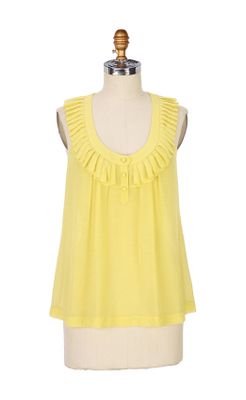 In real life:
Verdict: Pass. Hint of sheer? More like "don't you like my cute new bra?" I like the pleated collar, but everything else was just meh. This was an extra small. Way too tent-y and way too see-through.
Next, the 'I have no idea what this Leifsdottir number is called' dress:
Verdict: Regretful pass. I found this dress in the sales rack and thought it was way too quirky to not try on. The scallop detail reminds me of fish scales (in a delightful way) and it's texturally interesting and the shape is flattering too. I just wish it were only a skirt. I don't need a whole dress of fish scales, adorable as it might be. (
though I might cave and go back for it. shhhh.
)
Lastly, the
Honeyed Peplum skirt
: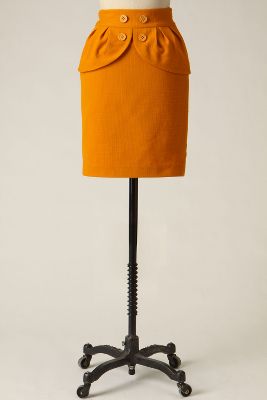 In real life:
Verdict: Bought it. I never thought I'd spend $130 on a skirt, but WOW WOW WOW this skirt is amazing! I didn't think the peplum look would work on someone as hip-y as me, but I was wrong wrong WRONG. The fabric feels divine, and it has a nice heavy construction. I got it in a size 6, which fit my 27 inch waist + generous bum perfectly.
Pssst... If you're really observant, you'll notice that I switched out of my Augustas. Let's just say that driving in downtown is not something I want to do in heels.